Friday, May 28, 2010
by
Rajat
» Fri May 28, 2010 6:39 pm
THANKS TO SAMRAJ FOR PICTURES
[/size]
girls on stage
top 20 announced
Stefania interviewed
Tuesday, May 25, 2010
by
Fahed
» Tue May 25, 2010 4:57 pm
by
SamRaj
» Tue May 25, 2010 12:16 pm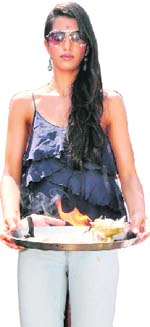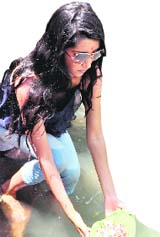 Haridwar, May 16
After flooring the panel of judges at the Miss India pageant and whole of India with her wit, beauty and personality, the 'not to be left behind' newly crowned Miss India World Manasvi Mamgai today took a holy dip in the Ganga and performed rituals.
This was Manasvi's first visit to the holy city after her crowning at the Miss India beauty pageant in Mumbai and the rush, passion and excitement among the people on seeing her stamped her with a celebrity status which is mostly reserved for Bollywood actresses.
Her elegance and aura cast a spell. Her dark sunglasses, a halter top and sky blue faded jeans gave her a cool look in the simmering hot Haridwar noon.
Be it localites, pilgrims, tourists, foreigners, priests, police personnel on duty or mediapersons, everyone seemed to be heading towards Manasvi to get a glimpse of her. And if a photograph or autograph came one's way, one's labour would have borne fruit.
First, the Miss World entourage reached Har-ki-Pauri, performed rituals and offered flowers to the Ganga and Sun God.
Then under the guidance of Teerth Purohit, Manasvi performed rituals. After this, the diva headed for the VIP ghat, just opposite the Har-ki-Pauri, and took a holy dip.
Speaking to The Tribune, Manasvi Mamgai termed her Dehradun-Haridwar tour as refreshing which made her more of an 'Uttarakhandi'.
Miss India World Manasvi Mamgai performs a ritual at the Har-ki Pauri
Miss India World Manasvi Mamgai performs a ritual at the Har-ki Pauri
She said that the love and warmth that the people of her home state are bestowing on her makes her want to do some substantial for Uttarakhand.
On her preparations for the Miss World title to be held later this year, Mamgai said that there is a strict regimen to be followed. She oozed confidence that a billion wishes are with her. After making Uttarakhand proud, it is time to make India proud at the international level, she said.
Women police from hill districts who were on duty when the damsel visited Har-ki-Pauri were impressed with her achievements and were quite excited when Manasvi agreed to have a photograph with them.
"Nowadays, daughters of Uttarakhand are really shining all over. Manasvi has done the state proud and has reaffirmed that girls are in no way lesser than boys. When I took the examination for sub-inspector, many persons in my hometown Pauri didn't believe I could make it, but I did," said a women cop who was praised by Manasvi.
Autograph seekers too were obliged by the glamour girl who has in her awards kitty titles like Elite Model Look India in 2006 and Miss Tourism International in 2009. She is a model for various brands like Lifestyle, Wagon-R and Woodland.